If you're a fan of online slots, then we're excited to share with you some information on a great game that you can play. Elements: The Awakening game is designed by NetEnt – a universally acclaimed powerhouse of a slot game-designer. This company has made some of the best games in the field of slots – so if you can find any game made by them – there is a good chance that you will end up liking it.
So, today we will share some information on the game called Elements: The Awakening. Is this game good? Does it have special features? What are the symbols like – are there any wilds and scatters? If you can finish reading this review to the very end, then you will find out exactly what this game is all about. Without further ado, we present to you Elements: The Awakening.
Elements: The Awakening – Graphics and theme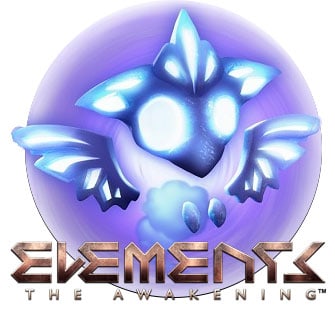 This is a game about the elements. As most of you know – the elements are earth, fire, wind, and water. So, you can expect a lot of the theme and the overall feeling of the game to have something with the elements of life. The graphics are all well-designed – but then again, you wouldn't expect anything less from a company like NetEnt.
If you expect to see some exciting, over-the-top visuals, though, we suggest that you try playing some other game. To be fair, this game features some very nice visuals – you can see even some video features that will introduce some of the elements. The music of the game is set in place just to add to the atmosphere. Don't expect to hear some orchestral masterpiece of a music – again, it's only there for the atmosphere. It will give you a feeling of tranquillity though – so this is always a nice thing.
The sounds will do the same – this game will not bombard you with special effects and sounds that will startle you every now and then. It's a lot more peaceful than that and it's the perfect choice if you wish to play a slot game and just relax back in the comfort of your chair back home.
Features
In total, you will be able to play on 20 pay lines in this game. As is the standard with NetEnt games, the number of pay lines is fixed in this one. This means that you won't be able to select on how many pay lines you will play – some players may find this irritating, but we think that for most players it won't make any difference. For an in-depth list on all of the pay lines in this game, we suggest that you play the game – there are variants that you can try out for free.
There you will be able to find all of the information about the pay lines that you can play on. Of course, there is the autoplay feature that you could use if you wish to relax even more and let the game do all the "hard work" for you. You will need to set your default bet and click on the autoplay button and the game will take care of the rest while you just lounge and chill.
Symbols and bonuses at Elements: The Awakening
Again – this game is about the elements – so all of the symbols have something to do with them. There are fire, water, wind, and earth elements that are in this game and all of them have their unique worth and value. Where the game shines though is with the bonus symbols – this is the most unique aspect of the entire game.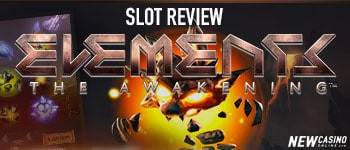 You will be able to get 4 different kinds of wild symbols and all of them have their unique properties. The earth wild symbol sticks until you get a win. The other wild symbols spread in different ways – and some even expand on an entire row. This game also features the copyrighted avalanche feature – which means that new symbols will take the place of the winning symbols of the last spin. This can go on up to 4 times – and if you can hit the avalanche feature four times – then you will get access to the bonus game.
Depending on the energy meter, you will be shown intro for any particular element and you will be able to use its aid in order to make some money on 10 free spins. As you can see, this game packs some exciting features that will keep you entertained for a long time to come – no matter who you are you will find this prospect exciting.
Final notes on Elements: The Awakening
This is a neat little game that you should try out if your goal is to just relax and play a couple of spins on the slots. That's all there is to it. And if you can make some money on the side with it, then all the better.