Contact Us
Here at New Casino Online we are very happy to be contacted by our readers with feedback. Feel free to ask questions, send feedback or whatever you think that we could help you with. You can use the contact form below. Note that we are not responsible for any complaints or agreements between players and the casinos. So if you have any problems or questions arising between a casino operator and you as the player, then please contact the casino directly. We are only a comparison website that aims to give you as a player an overview of the world market of online casinos. Note that gambling requires you to be 18+ years old. Always gamble responsibly and read all terms and conditions on the casino itself as well as bonus offers before you play.
Now, use the contact form below if you have any questions or feedback on this website and its content.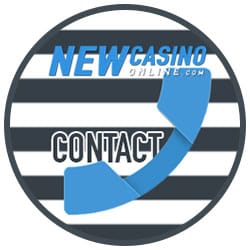 Our goal is to reply to all emails as soon as possible. However, sometimes the answer can take a bit longer than expected due to many incoming messages. We could also miss potential messages if they go directly to our spam folder for example. Finally, we are very thankful for all feedback that can make us better. Play safe!
All the best,
Team New Casino Online