There are many different slot games and variations thereof that you can play online. In fact, game-designers such as Microgaming, PlayTech, and NetEnt have made it their mission to continuously create new and exciting games that you can play with great pleasure. Well, today you will be reading a review about a beloved online slot game that has garnered fans all around the world. The game that we're talking about goes by the name of Divine Fortune. There are many reasons as to why it would be a good thing for you to play this game – and you will learn about some of them if you could finish reading this short review. Without further ado – we present to you Divine Fortune.

Divine Fortune – Theme and graphics
If you play this game, then you may realize that the graphics are somewhat lackluster. NetEnt may have some games with brilliant graphics – but frankly, this is not one of them. You have your run of the mill symbols and there are no flashy visuals in this game. But this can also be a good thing as there are many players that practically hate the visuals and the flashiness of most of the slot games that are designed in this way. So, if simplicity is what you're after and if you don't wish to be bothered by flashy visuals, then we suggest that you try out this game.
Divine Fortune is set in Ancient Greece. This is the theme of the game and the music supports it. In fact, the music is also unobtrusive, much like the graphics of the game – there is some kind of solemn music in the background and it will give you the impression like you're inside of a holy temple of some kind. If you find that you're fascinated by the theme of Ancient Greece and of Greek mythology – then we think that you will love the theme of this game.
Features in Divine Fortune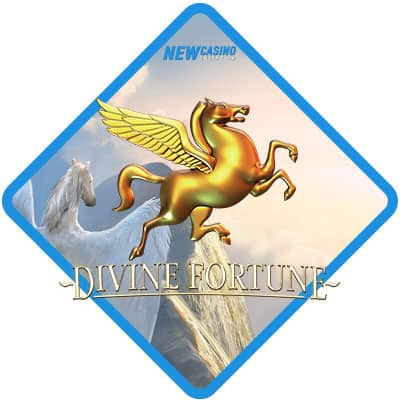 This game features 3 rows and 5 reels – much like all the rest of the acclaimed NetEnt games. There are, in total, 20 pay lines and their number is fixed. You can play this game on your desktop, laptop, tablet, or even cellphone. This means that you can take this game anywhere with you – you can even play it on the bus if you're on the run but you have time to play out a quick game. If you wish to just lounge and chill – it means that this is the perfect time for you to use the autoplay feature in this game.
If you select the autoplay feature, then you will be able to tell the game how many spins should it make on its own. You can do this with 25, 50, or 100 free spins. You can then sit back, relax, and enjoy the game taking care of itself while you just watch and expect to win something. So, as far as slot games go – this game features some nice little features that you will find exciting.
Symbols and bonuses
The symbols are, of course, set to the theme of Ancient Greece. There will be winged horses, bulls, eagles – even Medusa herself makes an appearance in this game. And then there are the classic card symbols from 10 to ace, designed to the tune of the theme of Ancient Greece. There are also a few bonuses. The first bonus comes in the form of the wild symbol – a winged horse. Wilds, of course, take the place of almost all other symbols if you need them for a winning combination.
Then there is the wild on wild feature in which a wild symbol can expand to cover an entire reel. Also, there is a falling wilds feature – which means that the wilds will gradually fall off the screen with consecutive spins – which in turn means that you will be able to use the exact same wild symbol that falls on the reels multiple times.
There is also the free spins symbol which speaks for itself. The more of these symbols you can get – the better. If you can get 3 on the reels, then you will get 5 free spins. If you can get 4, then you will get 8 free spins. And finally, if you can get 5 scatter symbols, then you will be rewarded with 12 free spins. Finally, there's the bonus game that you can access by collecting bonus symbols. In this game, you will be able to hit three levels of jackpots – depending on your luck. It offers a great way to get rich, indeed!
Summary of Divine Fortune
If you're a fan of the theme of Ancient Greece, then you will definitely love this game. Other than that, this game has just enough features and bonuses to keep you glued to the screen for prolonged periods of time. Check out this list of new casinos to find a website to play Divine Fortune. We hope that you will have fun with it!