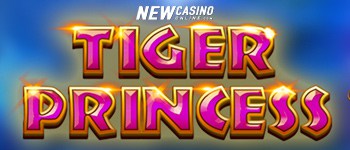 Tiger Princess is a steamy jungle adventure slot from Slotvision. It's a new game release from September 2019 so it's smoking hot. The Tiger Princess is a blond tiger of perfection with a curvy body and she is crazy wild oh that's right she actually is a Wild in this slot machine! It's a classic slot with a 5*3 reels and 10 pay lines and it really gives an amazing first impression. Wonderful sexy colors of pink and gold in a jungle theme cant go wrong with anyone. Do you hear the roar? If not are you ready to get dirty in this steamy jungle slot and get out on an adventure with the amazing jungle princess? Keep reading the review is you want or go along and start playing if you can't stop yourself.
Symbols
Tiger Princess invites you to play on this beautiful graphic and artwork from Slotvision. The Symbols are astonished beautiful and are represented by our tiger princess, cloaked tiger, giant cut ruby, a vial of potion, emerald encrusted goblet, a book of secrets. The symbols do of course represent a range of different values. We won't forget that we of course also have the A, K, Q, J, 10 and 9 symbols in this game. The one and only Tiger Princess represent the Wild symbol and the Ruby is the much loved free spins symbol.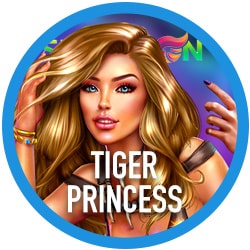 Technology and sound
Since this is a relativity new game released in 2019 it's of course developed with JavaScript and HTML5 technologies. So it's available on both desktop, tablet, and mobile. We deep-dived and played it on all the devices and it works great on a wide range of both apple and android devices. We missed a landscape mode otherwise terrific. The sound is nothing that really stands out for this game but it does its job to create a good atmosphere.
Summary
Tiger Princess is a high volatility slot machine from Slotvision that took us with a storm! This could really be a new modern classic with this beautiful dark blue theme with a touch of pink and gold. If you enjoy jungle themes and high volatility you should definitely find a casino that provides this new hot slot machine from Slotvision.