Jumanji Slot is a brand new casino game from NetEnt. Perfectly launched simultaneously with the new movie coming up in the cinemas all over the world. Jumanji: Welcome to the Jungle is the new of the sequel to the big movie hit from 1995. At that time, Robin Williams and Kirsten Dunst had the lead roles. The new movie will feature Dwayne "The Rock" Johnson, Kevin Hart and Jack Black among many other famous names.

NetEnt Jumanji Slot will take place in the jungle, where four teenagers take part of a magical video game, just as the movie. This is, surely, the perfect set up for a video slot and we love what we see in terms of animations, video sequences, and other features. Read our full Jumanji slot review further down. Pick any of our NetEnt casinos to be able to play this new and exciting game today!
Jumanji Slot – NetEnt does it again!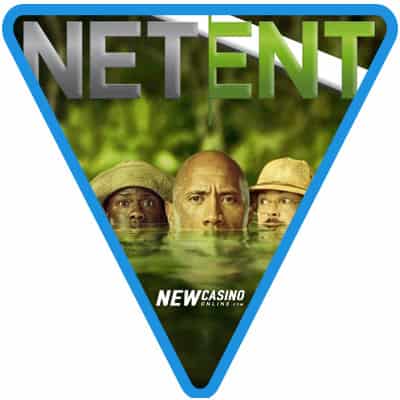 Yep, this surely is a video slot you don't wanna miss out on this spring. A game packed with adventurous features that you could say is a mix between the classic Gonzo's Quest and Jurassic Park. This is an official collaboration between NetEnt and the production company. This results in really nice videos from the movie and sound effects that you will recognize as well. The Rock and all the other actors will be with you in your quest. The plot is that the kids trapped in the video game need to work together to win it and get back to reality. You, on the other hand, will have the possibility to win a lot of money if everything goes your way.
Wilds, Scatter and Bonus Features
Like in most of the recent games form this game developer, you will run into plenty of fun features that will help you to win big. Get three of the scatter symbols for Jumanji free spins and the wild symbol will replace any other symbols, so you easier can get a winning line. There is also a really nice bonus quest that you will experience after playing for some time.
So, Welcome to the Jungle in this new NetEnt Jumani slot game! Can you escape it and maybe also bring some winnings with you?!