If you're a follower of superhero movies made by Hollywood, then chances are that you have heard the term "Asgard". This is a term that's featured heavily in Norse mythology. Well, this is the theme of the game called Asgardian Stones. You will be able to read and learn more about this game if you read the rest of this review. So, without further ado, we introduce to you Asgardian Stones.

Asgardian Stones – Graphics and music
If you have heard of this game by now, then you know that it was designed by NetEnt. For those of you that aren't aware – NetEnt is arguably the biggest and best of the slot game-designing companies in the entire world. Their games are known for looking and sounding good – among other things. You would expect nothing less in a game about the heroes and Gods of the Norse mythology. So, adequately, both the music and the graphics will fill you with awe and respect for the Gods. The music also fares along these lines – we think that if you're fascinated by the theme of Asgard and Norse mythology that you will like the music and graphics of the game.
The soundtrack is top-of-the-line and it's among the best soundtracks ever created for a slot game. The animations are all flawlessly designed. You will find out that the entire experience on the game Asgardian Stones runs very smoothly, as you're enjoying yourself and playing it. But you won't know whether you'll like them unless you check out the game for yourself – we suggest that you do that as soon as you can.
Basic features of Asgardian Stones
The core of the game is centred on 5 reels, 3 rows, and 20 pay lines. The pay lines are fixed, which means that you won't be able to select the number of pay lines that you're willing to bet on. The return to player, or RTP, of this game, is 96.31% which is quite enough for a slot game. The maximum win that you can get in this game is incredible 2,000x of your bet and it will happen if you can fill the entire screen with the fire God and a 4x multiplier.
If you wish to know how big of a bet you can make, then you ought to know that this varies. You could bet anywhere from $0.20 to $200 depending on how lucky you feel. It is also possible to use the so-called autoplay feature for anywhere up to 1,000 spins. You can modify the autoplay feature to stop at various intervals depending on your personal preferences. This slot can be played on desktop, mobile, or tablet. Depending on what you currently have in your possession – also, all OS platforms are supported by this game.
Symbols and bonuses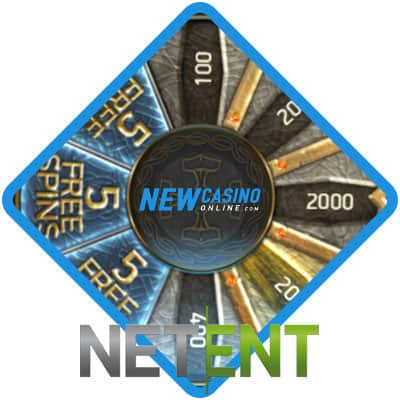 There are the classic card symbols which are of lowest value in Asgardian Stones. As the hierarchy climbs up, you will see the more powerful, more valuable symbols of the Norse Gods. The Fire God is the symbol of highest value in the entire game. This game features the well-known avalanche feature. This means that the combinations you win on a single spin will trigger an avalanche where new symbols will take the place of the winning symbols. We think that you will like this feature. It gives you the opportunity to make additional winning combinations without even having to bet anything. Winning combinations will beget additional winning combinations.
There is also a wild symbol. This is no surprise since the wild symbol is among the most popular symbols in the world of slots. And it comes in the form of an intricate tile on which the letter "W" is stamped. There will be no scatter symbols in this game though. Scatter symbols are loved by players because they give you the chance to play a bonus game. Well, the compensation here comes in the form of a big, 3×3 bonus wheel that can fall anywhere on the lines 3-5 and it will trigger additional bonus spins for free.
Summary of Asgardian Stones
NetEnt has managed to climb to the very top of the hierarchy of slot game-designers not by designing bad games, but by designing high-quality top-level games. We think that Asgardian Stones definitely falls into the latter group of games. And that no matter who you are, you will end up loving the game. There are great features and graphics – the soundtrack and animations will captivate your attention for a long period of time. You will see that it's easy to lose track of time while you're playing this game because of how fun it is. You have to remember to gamble responsibly and not get addicted to this game. If you can do just this, it means that you will be able to relax and enjoy the great game Asgardian Stones.